Why Should You Choose No Limits Chiropractic?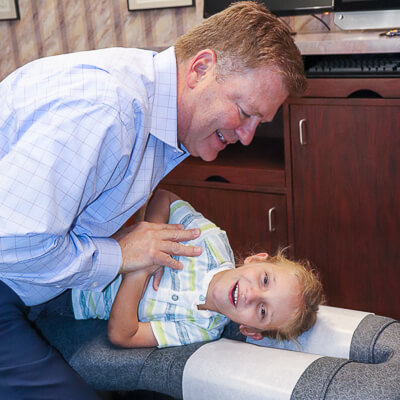 With over 35 years of combined experience, Dr. Stuckey and Dr. North have been very successful at treating many different types of conditions. In addition to being a Doctor of Chiropractic (D.C.), Dr. Stuckey is also a Fellow of the Acupuncture Society of America (F.A.S.A.) and a Certified Chiropractic Sports Physician (C.C.S.P.). He attends continued education classes on a regular basis.
We will help you feel better and stay better, because we address the cause of your pain, instead of just treating the symptoms. We offer care for your entire family – no one is too young or too old. Every week we help hundreds of people live with less pain and get them back to their normal routines.
We can help with pain wherever you feel it – not just in your neck and back. We offer a variety of products including cervical pillows, custom shoe orthotics, cold gel packs, vitamins, and supplements to help complement your adjustments and keep you feeling good between visits.
We will take your finances into consideration and have your best financial interest at heart.
When you stop into our office, you'll notice that we know your name and why you are here. We truly care about your health and well-being.
Why Chiropractic?
For general wellness and disease prevention.
To improve your energy.
To improve your immune function.
To improve your memory and concentration.
To improve your overall health.
To help you feel better.
To help you sleep better.
To help you relax.
To improve your athletic or sports performance.
To help reduce your stress level.
To help you cope with health problems.
To give you control over your own health.
To help you feel better emotionally.
To improve your relationships with others.
To treat injuries without medication.
To improve your balance and coordination.
Because Chiropractic WORKS!
To improve your attendance at work or school.
You are in good hands. We are here when you need us and offer same day appointments. Call today and see for yourself how our team can help you live your best life!
CONTACT US »

Why Choose No Limits Chiropractic | (636) 240-2225