Here's What You Can Expect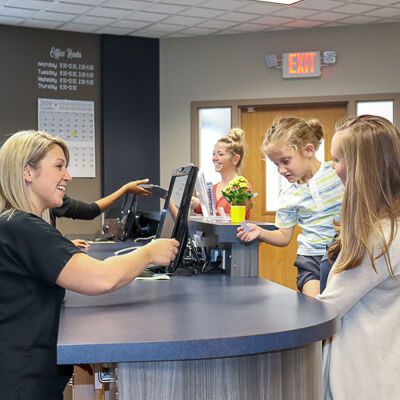 When you walk into our office, you will be greeted with a friendly smile by our knowledgeable and experienced Chiropractic Assistants. From the beginning, you will know that we care about your health and well being. Don't worry – there are no surprises here, we explain everything in advance.
Chiropractic care normally involves a series of visits during which we will address the cause of your problem, not just the symptoms. We care for your entire family no one is too young or too old. At No Limits Chiropractic, we improve lives every day. WE CAN HELP!
FIRST VISIT : To find out if we can help you, we ask questions and listen.
REPORT OF FINDINGS VISIT : We'll report what we found and answer all your questions.
TYPICAL VISIT : A typical visit will be much shorter, but just as important!
So, check out some of our reviews and then contact us to make an appointment. All of us here at No Limits Chiropractic look forward to meeting you.
CONTACT US »

I'm just feeling encouraged and looking forward to less pain soon!

Amazing experience! Every time it gets better and better!

"It is difficult for me to understand why I waited so long to place my confidence and my healing in the hands of Dr. Mark Stuckey"

Y'all are absolutely fantastic!

Dr. Stuckey and his staff are friendly and willing to listen. They are very professional and caring people who are interested in helping you with your individual situation. Everything is explained in detail and how things will progress. They show a sincere interest in caring for you.

A very organized and helpful visit!

I appreciated the time taken, as well as the care taken, to evaluate my problems and explain the procedures. I am very anxious to get started in the healing process!

I had been experiencing "vertigo." Dr. Stuckey took care of it, and I can now turn my head without feeling like I'm going to stumble or fall over. THANKS A BUNCH!

It was a very good experience and I felt like I was in good hands!

I know Mark is very dedicated to his patients and is very professional and caring. I know I am in good hands. I wish I would have seen him sooner.

I have come a long way since my first visit to No Limits Chiropractic. I feel so much better and have no pain at all most days. The staff was so nice on each and every visit. I would recommend No Limits Chiropractic to anyone looking for a fresh start on managing their everyday pain. Dr. Stuckey is amazing.

The auriculotherapy I signed up for, I must say I was skeptical… Ended up exceeding my expectations and I wish I would have done this way sooner.

I have been 3 times so far and it has been a great experience. I highly recommend!

"Dr. Stuckey's adjustments have always been effective and have helped me to stay well for many years. I appreciate his expertise."

Everybody was super nice and helpful!

Everyone is very friendly. Dr. Stuckey has a great bedside manner. Made me feel like I picked the right person to help with my issue.

"He's so in tune with my needs that I feel like I'm his only patient"

Great Dr and great staff.

Everyone is very caring & friendly! I really appreciate that! 

The office is well run, and the staff is very helpful and pleasant.

Very pleasant experience. Thank you!

Very much put at ease. I will recommend everyone to your practice. The atmosphere of the office as soon as you walk in is amazing.

Wonderful staff- always friendly! I truly feel like my concerns were listened to with care. Extremely happy with my experience so far. Will definitely refer to others!

Dr. Logan was kind and very attentive to my concerns. Feeling major improvement after just 2 visits. I can't wait to be feeling more like my old self.

Everyone is very helpful and informative. I'm glad they share information about my care so when I can't be there when Dr Logan is, Dr Stuckey has my info to effectively treat me.

"Thanks for your kindness and support."

"Staff is wonderful and caring. I know that my health is important to them."

The entire staff from Gina, Sarah, to Mark are so friendly and inviting. A very warm, nurturing, and encouraging environment. Very personable and knowledgeable which is the best combination!

"Thanks for helping me feel better."

"At 57 years old even though I've been in above average shape I cant remember the last time if ever I could touch my toes straight legged, now I can."

Everybody and everything was top-of-the-line!

I was very impressed with Dr. Stuckey and his staff. This is a first rate office with people who really care about a person. I'm so glad I made the decision to see Dr. Stuckey!

I love that you walk through the door and the staff and doctors know you by name! The overall office keeps a joyful and positive attitude while running an efficient practice. 

"Dr. Stuckey has been keeping us healthy for years. We couldn't enjoy our retirement without him or his caring staff."

"I realized one day that something was strange.  For the first time in eight years I had no pain."

What to Expect | (636) 240-2225